I'm afraid I'm going to point you to
our Nectar Savvy blog
for another bit of Kids in the Kitchen cooking this week - but I promise it's the last time I'll send you over there for cooking because we've now come to the end of our
Sainsbury's Basics Cookery challenge
.
So after
last week's epic week of cooking
, we finished the week with:
Daniel's
video recipe for Vegetable Frittata
(do pop over and leave him a comment if you get the chance - he has done an amazing job of creating the recipe and cooking it even though he's only 8!)
And we got a bit silly in the kitchen with Miranda-style Vegepals! But don't worry, there was still no food wastage - You can find out the
fate of our Vegepal friends here
.
So whilst our cooking in the kitchen can be found over there this week, Miss T also had a very successful cooking session at our local Children's Centre.
She made a lovely Apricot Bread Pudding. And it was so simple to make too.
She buttered 2 slices of raisin bread, cut it into pieces and arranged in a dish. Then she added some chopped apricots. Then poured on a mix of 100ml milk, 1 egg and 25g of caster sugar (mix these 3 ingredients together in a jug first).
We brought it home to pop in the oven for 30 minutes at 180C.
It was so simple to make, and very yummy too!
If you have any posts about cooking with your kids, old or new, pop over to
Raisie Bay
and add them to the linky!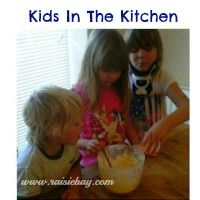 Read more...