Miss T helps in the kitchen this week!
I never know whether to post our cooking themed posts here or over on D's blog
The Brilliant Chef
because that's often where I look up previous recipes that we've tried so it makes sense for them all to be in one place.
On the other hand, D wasn't involved with today's cookery project at all so it doesn't seem right to hijack his blog for the write-up so it's here on our blog instead.
We are linking up with
Raisie Bay's Kid's in the Kitchen linky
again. It is a really lovely linky that encourages and inspires kids to get involved with cooking. A skill that I wish I had learnt from my mother but sadly didn't - cooking really is a skill that will prepare them for life and it is great fun and educational too.
It is usually either the
Brilliant Chef himself
or his big bro that get's involved in the cooking but this week I had a somewhat younger helper - Little Miss T.
I noticed that she enjoyed helping me beat some eggs recently when I was cooking a Moussaka so I wondered whether she could help with these Valentine's cookies too. Even though she is only
22 months old
, I think that you are never too young to start helping in the kitchen.
300g plain flour
150g caster sugar
250g butter or margarine
1 egg yolk (remember you can freeze the egg white so it doesn't go to waste)
2 tsp vanilla extract
a pinch of salt
Method:
1. Preheat the oven to 180 C. Next combine the butter and sugar together, then add the egg yolk and vanilla extract. We used a mixer but you can just mix by hand.
2. Add the flour and mix to form a dough.
3. Wrap the dough in cling film and chill in the fridge for 30 minutes.
4. Now your dough is ready to roll out (not too thinly) and then cut out your shapes.
We used a special heart cutter that cuts out a smaller heart-shaped hole in the centre of the cookie but if you don't have one you can just use a template to cut a large heart and then use a small cookie cutter in the centre to make the hole.
5. Put them onto a baking tray lined with greaseproof paper. Then add the crushed lollies into the holes.
So that was our Kids in the Kitchen recipe for this week. Next week my aim is to make something savoury with the kids helping. That is one of the things I love about D - he loves to get stuck into cooking anything and everything not just cakes and cookies but proper meals too.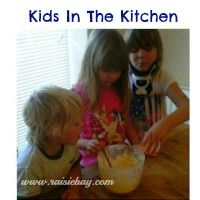 Also linking up with Clarina's Contemplation's Savouring the season: