Just when we thought all the excitement of Easter was over, we received a great goody pack from
Nintendo
to try out some Mario Crafts and Mario baking.
We've saved the paints to do another day, but we had great fun getting stuck into making Mario themed cup-cakes.
First, Miss T helped make some basic cupcakes using a really simple recipe. Simply mix together 4oz of butter, 4oz caster sugar, 4oz self-raising flour, 2 eggs, 1tsp vanilla extract (if you're making bigger muffins you may need a teaspoon of baking powder too but we didn't use any). Then spoon into cake cases and bake in a pre-heated oven at 180C for around 18-20 minutes.
Then we got busy icing and cutting out shapes from icing. The icing is made by mixing together butter ( 4oz) and cream cheese (4oz) along with 450g/16oz of icing sugar. Then we added blue colouring to half of the icing mixture and red food colouring to the other half to make two different coloured icings.
Daddy helps Miss T with the icing...
White Chocolate buttons are added to finish off the mushrooms...
The stars were made from coloured ready-to-roll icing.
The kids were really pleased with how they turned out, although next time I'll be using a gel food colour which gives better colour for the red icing as our red looked rather like tomato sauce!
Just a quick reminder...
...that this is our final week of blogging over at
Nectar Savvy family
- A HUGE thank you to everyone who has popped over and read our blogposts over there and we especially have loved reading all the comments on those posts over the past 5 weeks.
For this final week, the topic is
How being savvy can benefit others.
So please do pop over and have a read if you get the chance.
Click here for our first post
for this weeks topic.
Linking up with Kids in the Kitchen: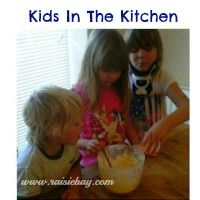 Disclosure: As Nintendo Family Bloggers, we received a goody bag containing paints, piping bag, star cutter and recipe cards, along with a giftcard to buy the ingredients necessary to make these cakes. We deviated a bit from the recipe cards as we made vanilla cupcakes for all our cakes instead of Red Velvet cupcakes for the mushroom ones. All opinions are our own.